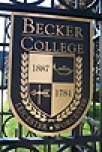 After taking a final exam at Providence's Brown University, J. Lee Richmond travels by train and arrives in Worcester just prior to game time. The rookie, who threw a no-hitter in an collegiate exhibition against the White Stockings last season, allows none of the 27 batters to reach base as the Ruby Legs beat the Cleveland Blues, 1-0. The 23-year old southpaw becomes the first hurler to a toss a perfect game in major league history.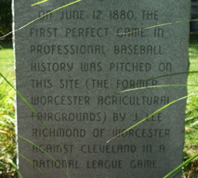 Worcester's right fielder Lon Knight sets the tone for perfection as he throws out the lead-off batter at first base. "The best game on record," according to the Worcester Evening Gazette last on 86 lasts only 86 minutes as the opposing pitcher Jim McCormick gives up only three hits and one tainted tally. The lone run scores as the result of second baseman Fred Dulap's errant throw to home.

The accomplishment will not be the only big league first the Ohio native accomplishes during his six-year National League career. The future dean of men at Toledo University will be also be remembered for being the first doctor to play professional baseball as well as being the pitcher who gives up the first grand slam in the pro history of the game.
Hidden by oriental grasses and obscured by fence, a four-foot granite marker commemorates the site of pro baseball's first perfect game. The unique pitching performance took place on June 12, 1880 on the Worcester Agriculture Fairgrounds, present location of Becker College in Massachusetts.